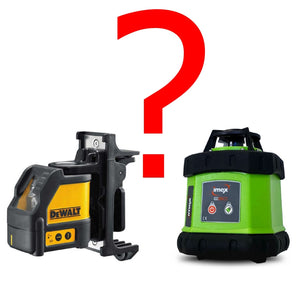 What Type of Laser Level Do I Need? A Simple Guide About Each Type of Laser Level and What They're Used For.
Looking to purchase a new laser level but unsure what each type is used for?  In this article we give a brief and simple to understand explanation of each type of laser level and what they are generally used for to help you make an informed decision as to what type is best for your needs.
Types of Laser Level
There are two main types of laser level used in construction – rotary lasers and line lasers.  Rotary lasers can vary from having one function to having several advanced functions.  Line lasers tend to come in two versions – cross line and 3D. 
Where Laser Levels Are Used
Laser levels have literally thousands of uses – from setting out landscaping and foundations to hanging pictures and putting up curtains.  The list is endless and we'll try and help you, in this article, to make a decision as to what laser level you need.
How Does Each Type Work?
Rotary lasers work by having a spinning mechanism encased in a 'lighthouse' at the top of the laser.  This mechanism projects a laser beam which appears as a dot when the mechanism isn't rotating.  When the laser is switched on it will take a few seconds to level itself before spinning.  The spinning motion creates a dashed 'line' on the target surface which can be seen visually internally or can be detected by the detector (usually included with the laser level) for external use.
Line lasers and 3D lasers work by projecting a solid line horizontally and vertically.  Line lasers project the lines forward from the front of the laser with limited reach left to right and up and down whereas 3D lasers project their lines in a complete circle around the laser.  3D lasers also project 3 lines rather than 2 which creates a cross mark on all 4 walls of a room as well as the floor and ceiling.
Where Does Each Type Work Best?
Rotary lasers work best in outdoor applications or indoor applications where large distances need to be covered (for example – large suspended ceilings).  Rotary lasers when used with their detectors can have ranges of up to 600m diameter.  Line lasers, however, are restricted by how visual the line is so 30m is about the maximum range although many line lasers come with a pulse mode which enables them to be used with a detector to increase the range to about 50m. Line lasers are ideal for working in interior rooms such as bathrooms, kitchens etc where the line is easily visible.
So Which Laser Level Should I Choose?
If you're wanting to level over a large distance or primarily work outdoors (setting up foundations, landscaping, drainage, brickwork, large suspended ceilings) then you need a rotary laser level with a detector.
If you're working internally (kitchen fitting, tiling, carpentry, drylining) and you don't need to see your laser line over 30m then a line laser or 3D laser is what you need.
---