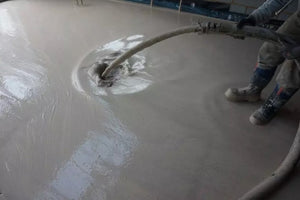 Tiling Onto an Anhydrite Screed? A Simple Guide to the Preparation of an Anhydrite Screed to accept Ceramic Tiling
What are anhydrite screeds?
Anhydrite screeds are made from calcium sulphite and are a 'pumped' type of screed – the screed is free flowing and is pumped into the property and moved around, much like self levelling compound, until the correct levels are found.  They are a fast way of installing a perfectly flat, level screed but can cause issues with ceramic tiling if not correctly prepared prior to tiling.
How do I know it's an anhydrite screed?
 Anhydrite screeds look very similar to standard sand/cement screeds and the differences between the two can difficult to identify.  Anhydrite screeds tend to be lighter in colour but the only definite way to check is with the screeding company.
How to prep the screed
 After 2-6 days a laitance layer will form on the surface of the screed and this will need to be removed mechanically by either a floor scabbler or a sander. This is a weak layer that will break away from the screed if not removed.
 The screed will need good time to dry and will need to be at 0.5% residual moisture level.  As a general rule allow 1mm per day drying time for screeds up to 40mm thick and screeds thicker than 40mm will require 2 days per 1mm.  This is only a very general guide as some screeds are designed for fast track laying and different brands would have different drying times – it is recommended that you check with the screeding company.
 Once the screed is dry enough and the laitance is removed you'll then need to prime the floor with a suitable primer (such as Ardex P51).  The manufacturer of the primer will have a guide as to how many coats etc will need to be applied.  The screed can then be tiled over although if you wanted to take a 'belt and braces' approach then a good idea would be to install a decoupling membrane like Schluter Ditra or AlpherPro matting which would provide a further barrier between the tile adhesive and the screed.
 The key thing with anhydrite screed is to create a waterproof barrier between the screed and the tile adhesive as the calcium sulphite will react with the cement in the adhesive and crystallise which is what causes the tile installation to fail.
Overview
So, anhydrite screeds have big advantages over sand and cement screeds when it comes to laying the screed (time saved etc) but care needs to be taken when installing ceramic tiles onto the screed.  If the screed is sufficiently dry and prepped correctly there is no reason for any problems to occur with the ceramic tiling installation.
---