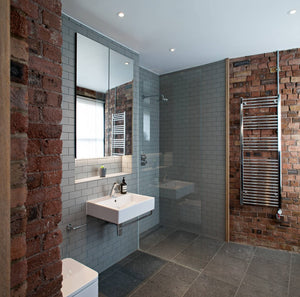 How To Tank a Wetroom
Wanting to install a wetroom?  Unsure how to make sure it's 100% waterproof?  In this article we give you a very simple installation guide on how to tank a wetroom properly so that any potential future problems with water ingress are eliminated.
Wetrooms are a stunning addition to any bathroom but without a dedicated shower tray like a conventional shower (which is 100% waterproof and captures and takes away most of the water) they can be problematic if not installed correctly.  The most common problem is water working it's way between the tiles, through the grout lines, and seeping into the surrounding substrate and causing mould growth, rot and other problems.
Tanking A Wetroom
There are an abundance of products on the market for tanking wetrooms but the two we prefer are the Kaskade system https://www.sts-uk.com/tiling-preparation/megatank-tanking-kit or the Larsen tanking kits https://larsenbuildingproducts.com/product/waterproof-tanking-kit/.  Both are easy to use and are complete kits for tanking a single wetroom.
Both come with a primer which needs to be applied to the substrate that is going to be tiled first (be it plasterboard, tile backer board, brick walls, finish plaster, etc etc).
Once the primer has dried the tape then needs to be applied to all corners and joints in the wetroom.  Often a tileable shower tray will be inset into the floor to create a fall to the shower trap and any joints between this and the floor need to be covered as well.  Press the tape firmly over the joints and corners to ensure a watertight seal is created.
Depending on the kit used, a single coat or double coat of tanking paint then needs to be applied to the primed walls/floor.  With a double coat product, one coat needs to be applied vertically and another horizontally.  Ensure the paint covers the joint between the tape and the wall to ensure no water can work it's way under the tape.
Once the paint is dry (2-4 hours depending on the manufacturer) then tiling can commence.
We hope this article has given you a very brief installation guide as to how to tank a wetroom.  Please note, it is a guide only, to show how easy it is to tank a wetroom, so please read the instructions of the tanking kit you purchase to ensure you tank your wetroom correctly according to the manufacturers guidance.
---